PROAUDIO
Products for your PRO AUDIO industry
From idea to reality, we support and accompany you through out the entire project
As an original equipment manufacturer, we are able to offer our OEM customers an all-round package:
Whatever you wish, we performing as
full-service provider
extension of your development department
supplier of expertise and technology
project team und settlement
As our OEM customer you benefit from broad range of our experience built on years of manufacturing, consulting, licensing and service providing.
With a professional attitude, continuous education and introduction of modern technologies, our clients always receive the best state-of-the-art solutions.
This not only adds up significant advantages for you, but also reduce risk and cost.
DFM delivers full-range state-of-the-art technologies which were thoroughly inspected and tested by out experts. You can focus all your energy on your business an we will take care of your technique.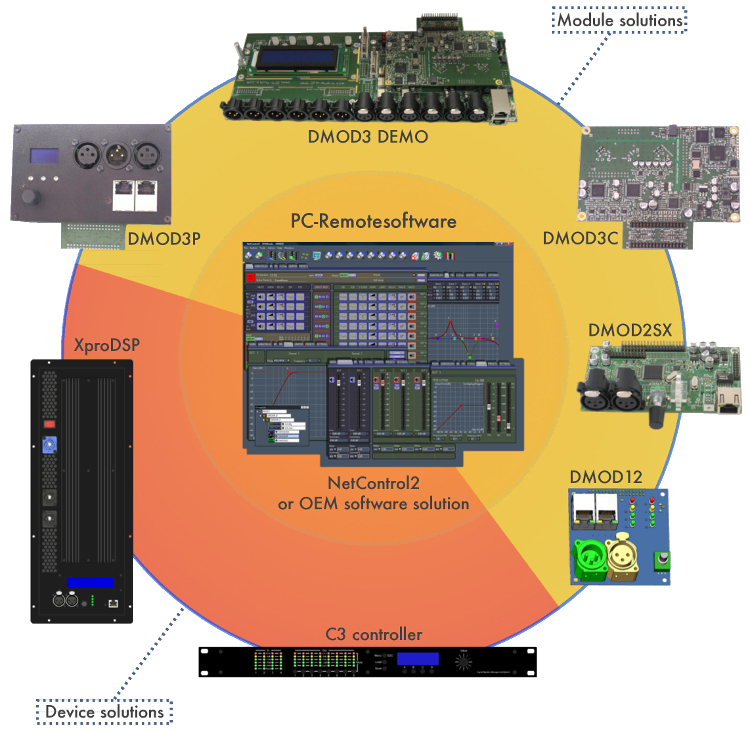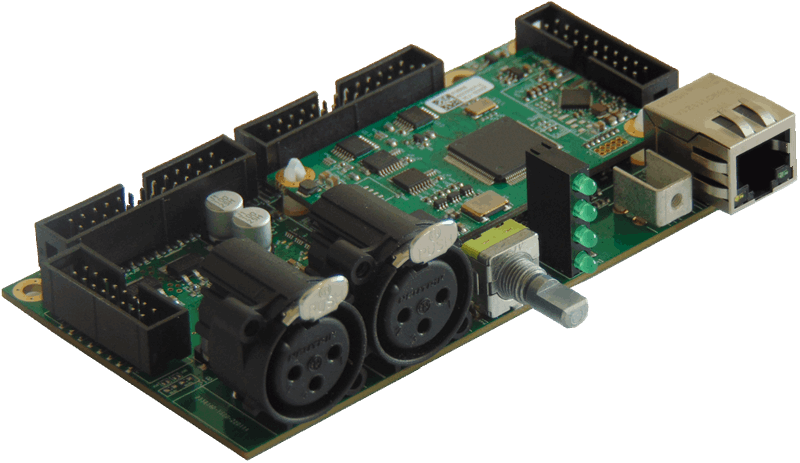 DMOD3SX
The DMOD3SX is the newest generation of DFM DSP modules, which replace the popular DMOD2SX module.
It can be combined with commercially available amplifier modules from Pascal® and can be used for audio subwoofers, powered speakers and rack mounted audio system.
DMOD3P
The DMOD3P module is the supreme class of our DSP-Module series. Equiped with our powerful 4th Generation DSP core technology, featuring 96 kHz sample frequency and extended network capabilities.
It provides 1 analog (1 AES digital input) and 4 analog output channels there is no need for external AD or DA circuits. Since the DMOD3P is designed to create a perfect amp solution for self powered speakers with the 2xLiteMod, 2xDigiMod 2004PFC and 1xDigiMod 3004PFC amplifier modules from Powersoft. It is also compatible with the amplifier module of your choice.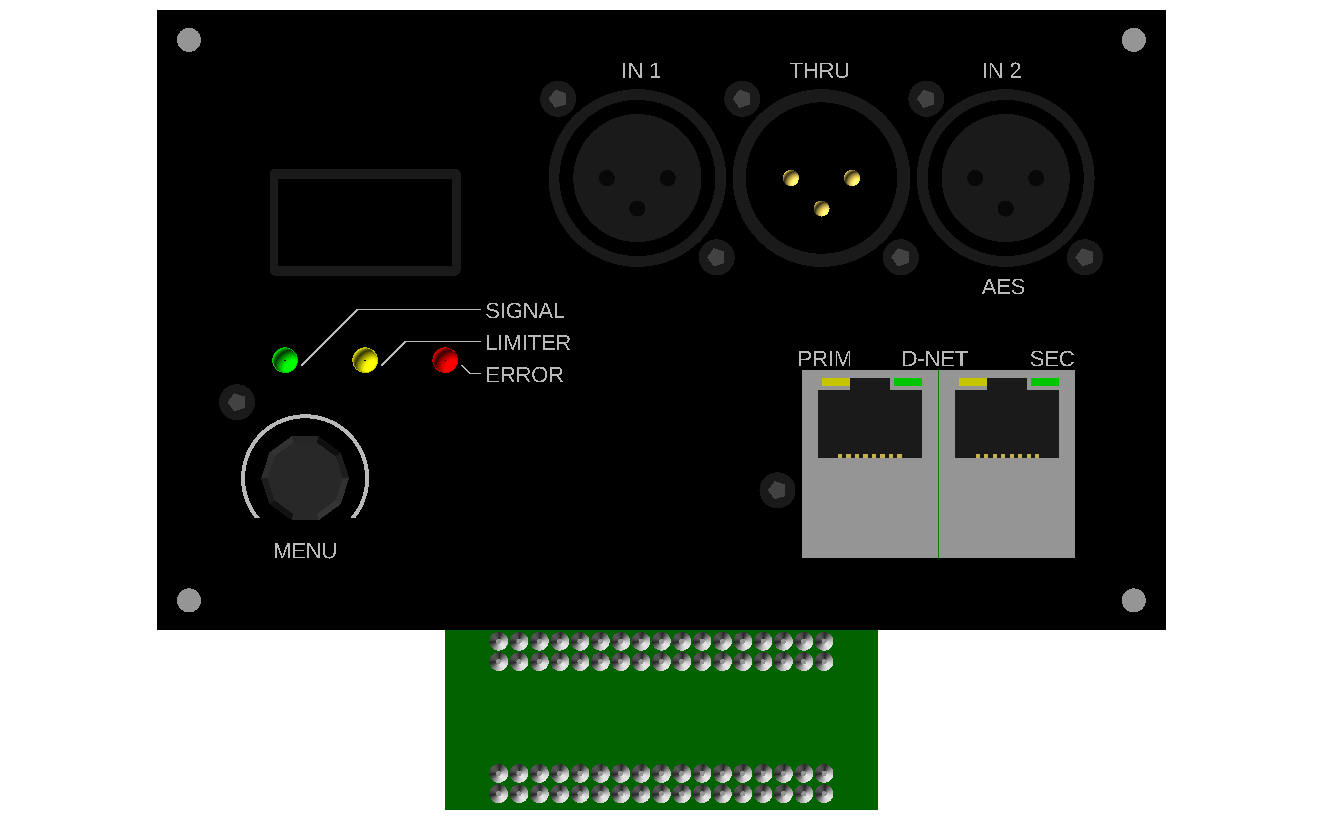 DMOD3C-Demo
Building high class DSP powered networks to enhance your rack device solutions – made easy with the new DMOD3C DSP-module on the DEMO-board from DFM.
The DMOD3C DEMO-board is the easiest way to adapt the DMOD3C to your own amp hardware. It includes all needed interfaces to integrated the DMOD3C fast and comprehensive in various applications. You can use the DMOD3C DEMO-board as a base for your own 4×4 controller or you can the boards can be cut and integrated in your 19'' amplifier. It offers a complete solution based on user interface with a 2×20 graphical LCD-Display.
Discontinued. The succssor the C3+ comes soon.


The DFM high performance DSP architecture provides excellent audio characteristics that allow even the most demanding solutions. Serial bus system with corresponding NetControl PC Software allows managing several C3 controlers as a groupable network in real time. This possibility is also supplemented in two variants which differ by managing the parameters.
C3-EQ:

The C3-EQ is a fully adjustable audio controller. For inputs and outputs parameters like filters, bands and so on are separatly adjustable.
C3-Controller:

At the C3-Controller only the inputs are abjustable. The outputs are adjustable by predefined presets made from the OEM manufacturer. The presets are made for the present speakertype only.
You are looking for a custom product?
We can support you with development and manufacturing of custom tailored electronics for your next project. Let us know how we can help: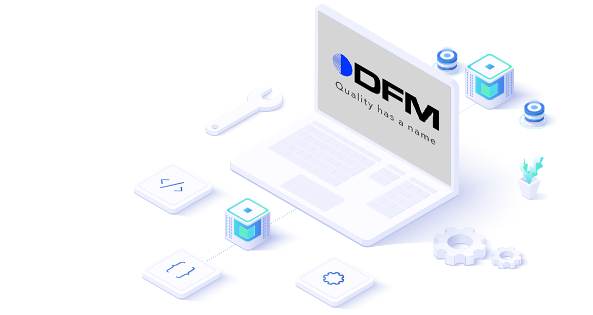 Discontinued Module- and Device-Series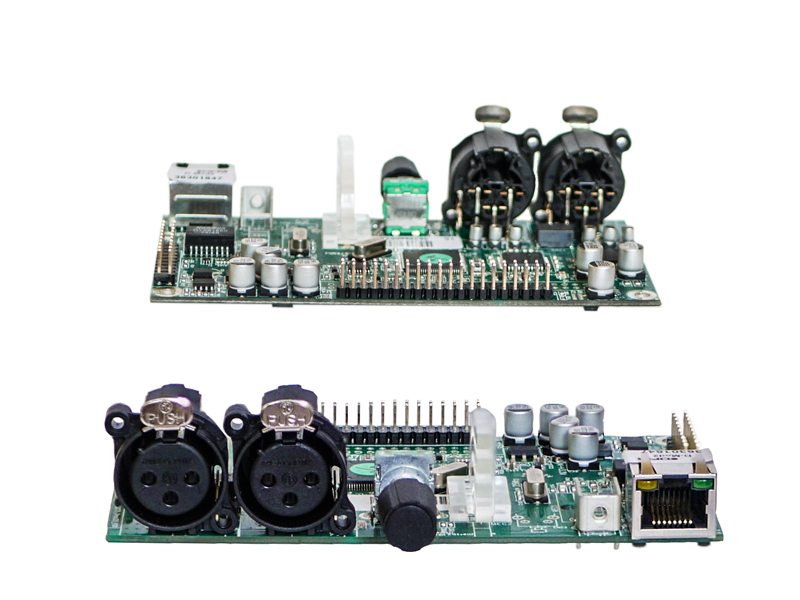 Discontinued. Succsseor: DMOD3SX
The DMOD2SX module is the new supreme class of our DSP-Module series. This module comes with our powerful 4th Generation DSP core technology featuring 96 kHz audio clock frequency and extended network capabilities. It provides up to 2 input channels (analogue + digital) and 4 analogue output channels. DMOD2SX is designed to work with the X-PRO, M-PRO and S-PRO amplifier modules from Pascal you also can use it with the amplifier module of your choice.
The DFM XPro3 DSP amplifier module allows you direct activation of already existing or new professional loudspeakers design.
It is equipped with all necessary in- and outputs, a net workable communication interface and operating elements for direct selection of desirable presets and level setting. Our device offers the most modern D-class technology of 3rd generation and supplies you with weight-efficient switching network technology.
Due to its high output power of 1 x 2500 W and 2 x 800 W you can not only control big Sub-/Sat systems but also managed them via efficient DSP architecture. The outstanding audio  parameters as a result guarantee your satisfaction in the most demanding applications.