Since 30 years EELA AUDIO develops and produces professional audio equpment for broadcasting. 


EA816 GSM hybrid
The EA816 is a stationary telephone hybrid for the GSM network. It is an industrial quality quad band GSM module with AMR-WB codec and the facilities for use as a broadcast hybrid.
For use in areas without cabled telephone connections.
To make use of the new HD-voice (Advanced Multirate – Wideband) facilities more and more mobile telephone companies are offering. The audio bandwidth is extended from 50 Hz to 7 kHz for a crystal clear sound, ideal for the radio reporter in combination with the S25 Reportophone.
Depending on your network provider and system used it can be a huge money saver. In a lot of countries a call from mobile to mobile is much cheaper than from mobile to fixed or visa versa. In some situations these calls can even be free of charge.

D4 Digital Broadcast Mixing
Digital broadcast console with 16 Input Fader, Start Knopf über jedem Fader, 2 Touch-Screens.
16 analogue inputs
8 Microphone inputs (+48V phantom power)
8 AES/EBU inputs
2 outputs analogue and AES/EBU
5 programmable stereo outputs
2 Touch screens for settings
All settings can be stored in presets.
In some situations these calls can even be free of charge.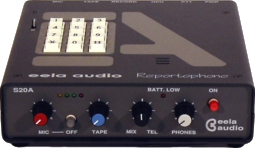 S20A Reportophone
The S20A Reportophone is an easy to use, full function radio reporter telephone unit.
With almost 10.000 units sold all over the world it's known as the radio reporters "Swiss Aemy knife".
Just connect a studio microphone, a pair of headphones and the telephone line and dial up your studio for a studio link with maximum audio quality.
The S20A is equipped with an internal mixer, with microphone and line inputs, two headphone outputs and a line output for recording. All audio connections are balanced and filtered against HF pick up.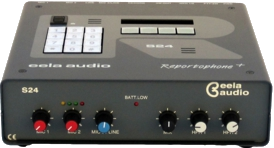 S24+ Reportophone
The S24+ Reportophone is the dual version of the S20A. It is a user friendly, flexible outside broadcast unit, suited for working with any type of analog studio link, being telephone or 4 wire in any combination.
The mixer section has been extended, with three mic/line inputs, for two reporters and there are extensive communication facilities available.
The build-in LCD display and the soft keys together with the menu structured working modes keep the operation clear and simple. The S24 can be used anywhere because of it's compact and lightweight though rugged construction with battery powering. A power supply for optional mains operation is included.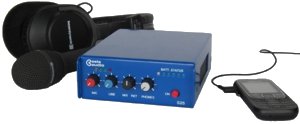 S25 Mobile Reportophone
Connect the S25 Reportophone with your mobile phone and you can then transfer a 'live report' into the radio house from anywhere.
Thereby, the S25 in the handling is just as easy to use as the legendary S20A Reportophone. In the robust metal housing are standard XLR and 6.3mm jacks for microphone and headphones, as well as line input and output available.
The high signal quality is achieved through an intelligent signal processing to use optimally the available bandwidth.
With the internal battery you can reach an operating time of over 10 hours, in addition, you can replacethe battery by standard AA batteries.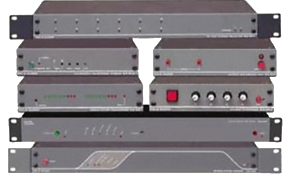 EA800 und EA900 Serie
With the EA series eela audio offers very useful and practical devices for solving problems in many studios. The offers range of signal processors, preamps, headphone and high quality telephone hybrids analog and digital.
EA811 Balancing Unit /RIAA Pre Amp
EA820 Stereo Balancing Unit
EA853 Studio Interface
EA925 6-Way Stereo Distribution Amp.
EA862 Red-Light Signaling Unit 220V
EA921 Modulation Limiter
EA956/957 6 or12-Way selector
EA815/1
The EA815/1 MkII is an easy to operate, high quality, analogue telephone hybrid for analogue telephone lines (POTS).
Voice Control is used together with preset balance, to achieve the best damping of the send signal. The unit has balanced line in- and outputs on XLR-type connectors and Opto isolated remotes on a D-9 connector. The send and receive gain is adjustable through the front panel.

EA915X DSP
The EA915X is the interface between an audio mixer and an analogue telephone line, providing the highest possible quality and reliability.
The EA915X uses an 16Bit digital signal processor to reduce the crosstalk.

EA916 Journalist Unit
The EA916 Journalist unit is a 'stand-alone' audio interface with built-in telephone hybrid and monitoring for a journalist to record a telephone conversation in a fast and easy way. A standard Windows or Apple Mac computer will recognize the unit and install a driver automatically. Balanced analog line inputs and outputs on XLR and SPDIF I/O on RCA cinch together with monitor loudspeaker connection makes it a very flexible unit.
The built-in telephone hybrid can connect to POTS analog telephone system or the unit can be used with a mobile (GSM) telephone. The mobile telephone connector on the front panel is compatible with the cables already available for the S25 Reportophone.
The unit has a balanced 48 Volt phantom powered microphone input connector with gain control on the front. The headphone jack connector and volume control are also available on the front.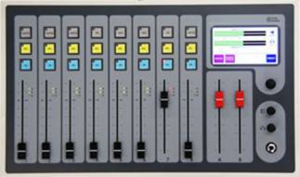 D3 Digital Mixing Console
Digital 19″ Broadcast Console with 8 input channels with faders, start button on each fader, 2 output faders and a touch screen.
24 inputs
2 main outputs
4 programmable stereo outputs
Touch-screen for adjusting EQ's, dynamics und logic functions
for die broadcast applications (RedLight).
All settings can be saved in up to 32 presets.
You are looking for a custom products?
We can support you with development and manufacturing of custom tailored electronics for your next project. Let us know how we can help: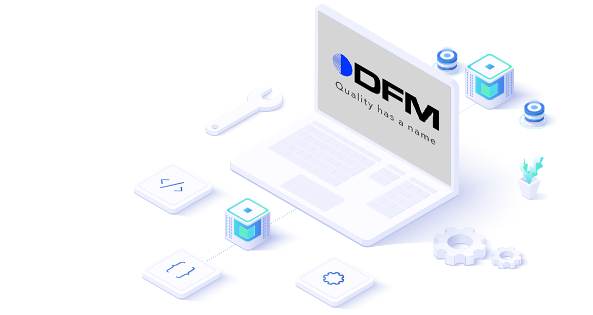 Location
DFM GmbH – Designhaus für Mikroelektronik
Industriestr. 25
77972 Mahlberg
Germany