The NetControl software of DFM offers a user friendly graphical interface to control and monitor all your systems, from the DMOD modules with X interface over the C3 Controller up to a System amplifier with DSP module, with one software.
In the System – section the PA system can be planned. The system can be set up with any number of groups with up to 2 levels. Subsequently, the configured system can be stored, in order to have it available for later shows.
All modules in single application

Easy system storring and restorring

Speaker type customization

Dedicated monitoring dashboard

Flexible graphical interface

Automatic device discovery on the network
The Network – section contains the scanned devices on the Network to which the virtual system can be connected to. Automatic device matching helps in the connection and assignment process.
The DSP's of DFM become clearly labelled through the OEM manufacturer and could contain in addition to the Product name also data for control and surveillance of the product.
Therefore with the automatic alignment the used type can be recognized and assigned. Alternatively the system can be of course connected also manually by drag and drop.
Beyond that, also the reverse way "receive system from network" can be executed, to provide from existing units in the network a system for the show, which can be stored also afterwards.
During the operation the user has with the "Monitoring" a total summary with Metering of all devices to his disposal.
Highlights
System can be set up virtually
Any number of groups with up to 2 levels
Virtual system can be read back from real connected devices
Automatic connection from the virtual system with the real devices
Load and store the provided systems
Support for up to 255 Ethernet devices
Support for up to 10 serial interfaces (RS485) with up to 30 devices each
simultaneous support of different devices; DMOD modules with X interface, C3 Controller, system amplifier with DSP module
operation and adjustment of the parameters such as IIR, FIR, X-Over Filter, Gain, Delay, Phase, Routing, Peak and RMS Limiter (in dependence of the release by the OEM manufacturer)
Building and dumping of Libraries (only OEM)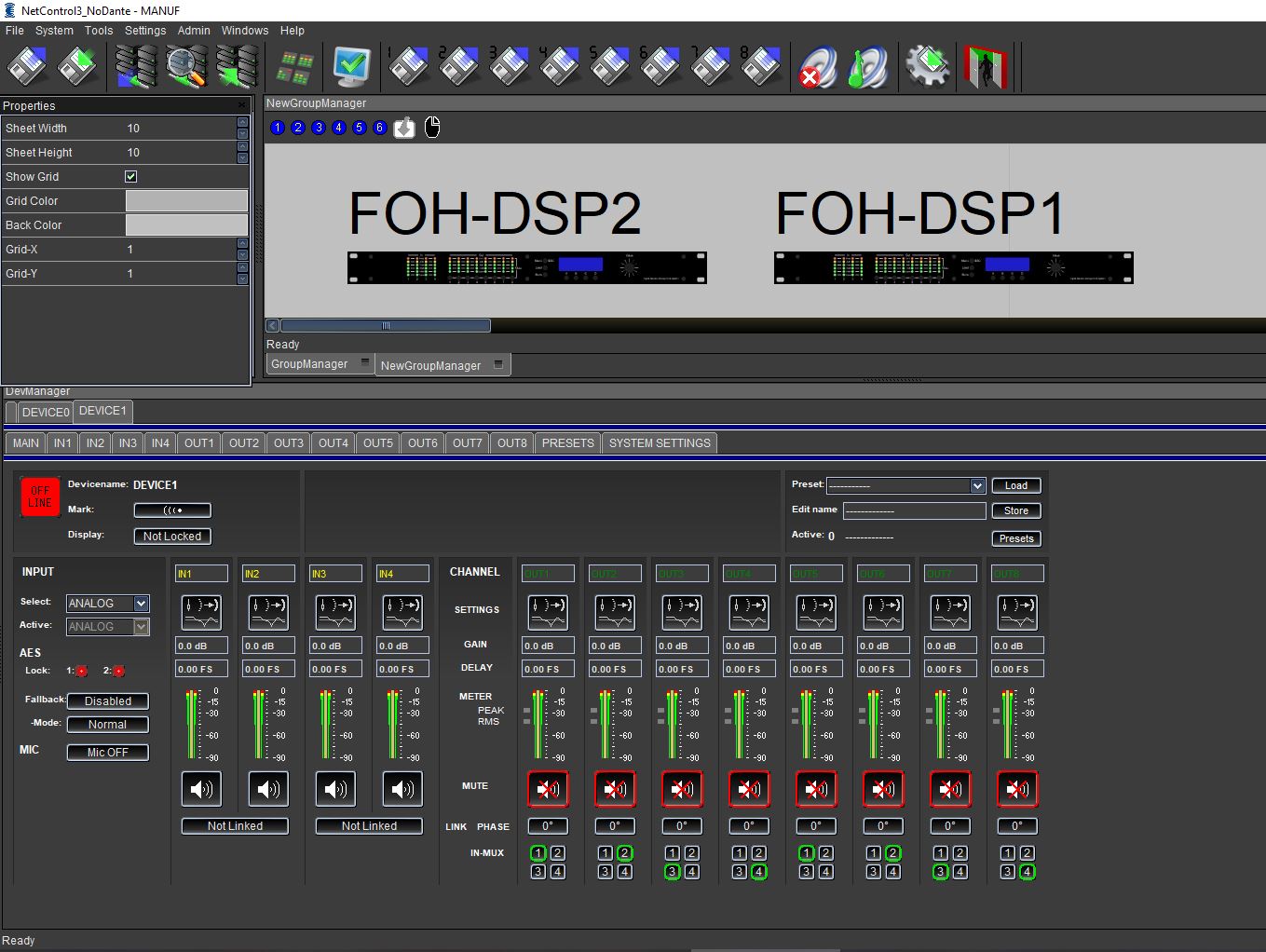 OEM Specials:
All DSP units as well as the software have their own manufacturer identification (Branding), thus excluding a selection of Data or the use of products of other manufacturers
The DSP modules are labelled by the manufacturer; e.g. Product Name, Logo, GUI Info, Serial number.
Firmware update while maintaining the manufacturer identification; highest security due to Fallback possibility to the last working Firmware
The software is freely customized by the manufacturer in the DeviceView and GroupView to differentiate the User and Manufacturer Software
The colour of the frame are freely adjustable
Library and Presets have manufacturer identification and cannot be read by any third parties